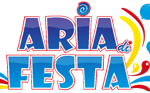 ARIA DI FESTA S.r.l.
Isle/Lot:
6/601-602
tel +39 081 8269454
fax +39 081 8269454
CARNIVAL AND PARTY ITEMS, CHRISTMAS ITEMS AND DECORATIONS, OFFICE SUPPLIES - STATIONERY - SCHOOL ITEMS
Aria Di Festa S.r.l. was born 25 years ago, almost by chance, in conjunction with the first birthday of Giovanna, daughter of Paolo and Lucia Bellucci, owners of the company.
The spouses were, in fact, looking for what was necessary to make the event memorable and, finding nothing to satisfy their desires, they wanted to create a structure where anyone could get what was useful to make any special event.
Balloon inflation was at that time linked to dangerous hydrogen. The first step was precisely to market the little-known helium, raising awareness of the risks that otherwise might have run.
From the distribution of helium, slowly, the range of articles has expanded. And, along with the first small shop, the family has also grown.
Francesca, in fact, the second child, will be inaugurating the San Gennaro Vesuviano shop at the age of 5 and, later, when she turned 8, the one located in Nola.
In 2011, while the now grown Giovanna was about to blow out the 18 candles, the Cola of Nola welcomed the wholesale store in a facility with an exhibition area of ​​over 1500 square meters and then moved, from 2017, to the current venue, still within the CIS, twice as large as the previous one.
Attentive to every new trend, Aria Di Festa tries daily to improve its proposal and, thanks to an attentive and friendly staff, to assist the ever-growing clientele.
A due thank you goes to collaborators, suppliers and customers.
With the advent of the web, our Aria Di Festa goes beyond all boundaries and opens up to the world because WHERE IS A PARTY …
THERE IS AIR OF PARTY!