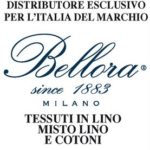 BELLORA di MANIFATTURA FODERAMI CIMMINO S.r.l.
Isle/Lot:
5/524
tel +39 081 5108534
fax +39 081 5109154
BEDDING AND HOUSEHOLD LINENS
We have been dealing with fabrics since 1750, and we have always been doing it in our town, Naples. Our experience has been passed down over generations and only the best values survive the time test. The BELLORA brand is one the most renowned among those distributed by the company. Nowadays, we know very well that your style is the most important aspect to express your distinctiveness, character and passion. We are your "partner in style". Our collection includes Lining Collection – Ready to wear fashion – Bride & Special Occasions – Dance & Events – Carnival and Parties – Bed linens and Tablecloths – Furnishings.