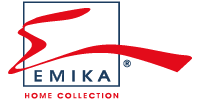 CARILLO F.LLI S.r.l.
Isle/Lot:
8/8013-8014
tel +39 081 5108551
fax +39 081 5108749
BEDDING AND HOUSEHOLD LINENS, TEXTILE SUPPLIES FOR HOTELS AND RESTAURANTS - HO.RE.CA., HABERDASHERY AND TRIMMING, FURNISHING FABRICS – CURTAINS AND CARPETS
Our company manufactures and distributes household products such as linens, curtains, carpets and furnishings fabrics, made consistently with the most current trends and complying with studied quality standards as for materials, designs, and product. We are located in Italy and abroad with a greater and greater success that lies in the quality of our products and the reliability of our services.