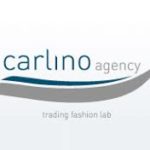 CARLINO AGENCY S.r.l.
Isle/Lot:
7/762-764
tel +39 081 5108088
fax +39 081 5108402
FASHION ACCESSORIES, BAGS - LUGGAGE – LEATHER GOODS
Carlino Diffusion at the Nola Cis is a famous leading company in the sector of leather goods and bags. Its highly professional staff specializing in bags and luggage has been working for our company for over 50 years. After a studied and resolute corporate brand policy, the company succeeded in getting a wide market share so much so to be considered as one of the most important companies of the sector.