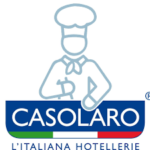 CASOLARO F.LLI HOTELLERIE S.p.A.
Isle/Lot:
8/8001-8007
tel +39 081 5108631
fax +39 081 5108009
WORKWEAR AND ACCESSORIES, SHOP AND OFFICE FURNISHINGS, HOMEWARE AND HOUSEHOLD ITEMS, HOTEL AND RESTAURANT SUPPLIES - HO.RE.CA., GIFTS – PARTY FAVOURS - SILVERWARE
F.lli Casolaro S.p.A. specializes in hotel, restaurant, café, bakery and canteen supplies. It offers approximately 75,000 items, divided into sectors, and a big warehouse to guarantee their continuous availability. Shipments take place daily all over the world. Moreover, a modern graphic workshop makes every kind of customizations on any item. Seasonal catalogues are always available. The company arranges meetings for their customers with famous chefs and tailoring masters. Find the closest Casolaro point. For further information, please visit www.casolaro.it.