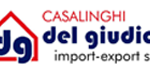 DEL GIUDICE CASALINGHI S.r.l.
Isle/Lot:
7/717
tel +39 081 5108607
fax +39 081 5108607
OUTDOOR FURNISHINGS, CHRISTMAS ITEMS AND DECORATIONS, HOMEWARE AND HOUSEHOLD ITEMS, CONSUMER ELECTRONICS, GIFTS – PARTY FAVOURS - SILVERWARE
Del Giudice Casalinghi Srl is a company that operates in the field of household items and outdoor furnishings. The company's product catalogue includes, among others, Christmas items and gift ideas: for your home, you can find knick-knacks, vases, centrepieces, kitchen accessories, porcelain items and glassware, carpets, furnishing solutions, artificial plants and flowers. In addition, the company also provides porcelain, crystal, glass, wood and silver wedding favours. Del Giudice Casalinghi does not compromise comfort: practical stepladders and ladders will make the housework easier. The company also offers a wide range of baskets.