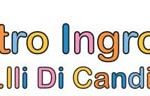 DI CANDIA F.LLI CENTRO INGROSSO S.r.l.
Isle/Lot:
5/514
tel +39 081 5108536
fax +39 081 5108503
WORKWEAR AND ACCESSORIES, BABY AND CHILDREN'S WEAR, CARNIVAL AND PARTY ITEMS, BEDDING AND HOUSEHOLD LINENS, UNDERWEAR, HABERDASHERY AND TRIMMING, GIFTS – PARTY FAVOURS - SILVERWARE, PYJAMAS AND HOMEWEAR
Di Candia F.lli Centro Ingrosso, with their original partners, Mariano, Ugo and Antonio, together with 11 other companies, moved their business from Piazza Mercato, in the center of Naples, to Nola. In 1986, it was one of the first companies to open its business and, together with 40 other companies, set up CIS SpA. Later on, another company was established, namely Di Candia Srl, and together, they created the "King Baby" and "Little Star" brands. Recently, both companies have been negotiating the acquisition of a well-known newborn underwear brand. Despite the current crisis, the two companies resist and go on spurred on by the past, aware of the present and hopeful about a better future.