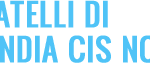 DI CANDIA F.LLI CIS S.r.l.
Isle/Lot:
1/504-505
tel +39 081 5108523
fax +39 081 19030004
WORKWEAR AND ACCESSORIES, BABY AND CHILDREN'S WEAR, BABY PRODUCTS - ITEMS AND FURNISHINGS FOR CHILDREN, TOYS, UNDERWEAR, HABERDASHERY AND TRIMMING, PYJAMAS AND HOMEWEAR, CARNIVAL AND PARTY ITEMS, GIFTS – PARTY FAVOURS - SILVERWARE
The main sectors are medical supplies, child clothing, underwear, haberdashery, large and small childcare products, and food supplements. A point of reference for the best Italian stores, the company also distributes in Turkey, Greece and Russia. F.lli Di Candia has an impressive position especially for the brands marketed: Plasmon, Nestle ', Mellin and Humana, Chicco, Mister Baby and Avent; DMC for haberdashery and, finally, Disney and Dodipetto for baby clothing. The company also distributes toys, haberdashery and supplies for hotels and centres.