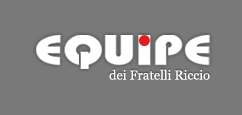 EQUIPE RICCIO S.r.l.
Isle/Lot:
4/420
tel +39 081 8269087
fax +39 081 3158029
FURNISHING FABRICS – CURTAINS AND CARPETS, TEXTILE SUPPLIES FOR HOTELS AND RESTAURANTS - HO.RE.CA., TEXTILE SUPPLIES FOR CLOTHES AND LINENS, HABERDASHERY AND TRIMMING
Equipe Riccio Srl was set up in 2000, by the will of the dear lawyer Vincenzo Riccio. Together with his associates and thanks to the experience that for over 100 years has been handed down over generations in the production and distribution of household linen, fabrics for curtains and interior decorations, he decided to establish a new business by strengthening the distribution of fabrics and curtains, and investing in new facilities and qualified personnel, developing its own "Abaca" and "Mon Amour" brands and presenting increasingly innovative samples and labels. The efforts made all these years have always been aiming at searching the best quality fabrics and curtains, while always focusing on the customer.