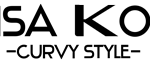 LISA KOTT di P.A.V. MODA S.r.l.
Isle/Lot:
6/638
tel +39 081 3641847
fax +39 081 3641849
WOMEN'S WEAR, PLUS SIZES CLOTHING, OCCASIONWEAR, FASHION ACCESSORIES, KNITWEAR
An overview … on textile researchers, production workers, communication experts … It is the result of a line with strong and special contents. For all women with Mediterranean curves. In the name of this entrepreneurial creativity and from the twenty-year experience of the P.M.P. Group company in the fast fashion sector, the new LISA KOTT brand was created. Likeableness and joy are the right words to describe the brand philosophy, which is always presented through new collections, suitable for all comfortable and trendy occasions, with the aim of making REAL WOMEN come back as winning protagonists. … While we ask the mirror who we are today … or … who we want to become, LISA KOTT, leading company in women's fast fashion for plus sizes over 44, is ready to make the magic of garments by drawing what is inside every real woman. LISA KOTT aims at taking care of all the details of the new "CURVY" beauty ideal, conquering the fashion system with the charming LISA KOTT collection.